Entrepreneurial Pathway Navigation toward Achieving C-level Success
Dr. Max Yen (Founder)
時間:2023年05月09日 (二) 15:10
主持人:田弘康 教授
講者:Dr. Max Yen (Founder)
服務單位:Global Alliance for Technology Transfer and Entrepreneurship (GAT2E)
講題:Entrepreneurial Pathway Navigation toward Achieving C-level Success
地點:4樓創意講堂
摘要 :
An entrepreneur is characterized as a person who is creative, visionary, smart, charismatic, organized, outreaching, analytical, and especially driving to achieving goals and onto the next. It is important to point out that achieving personal success and financial gains are not the primary factors for the classification of entrepreneurs. Delivering impact to soc iety and people, however, are the vital outcomes of an entrepreneur. It is also important to point out that entrepreneurs can be found in all sectors of society; government, business, service & high tech industry, academia, citizens at large, etc.
In this presentation, the growth process of entrepreneurs in high-tech/innovation startup business will be illustrated. This process is referred to as Entrepreneurial Pathway (EP). The EP adapts the framework of "Lean Business Canvas" which is an outgrowth version of "System Engineering (SE)" and "Project Management (PM). Both SE and PM are closed processes suitable for design of a manufacturing plant under known prescribed criteria, not an open process. The Entrepreneurial Pathway, on the other hand, is an open process consistent with dynamic real-time data/information analytics, immersive hand-on strategic decision makings and actions by the entrepreneurs-to-be.
What follows shows a typical lean business canvas where an entrepreneur-to-be will transform it into an entrepreneurial pathway for an innovative idea or invention. What follows is a list of issues to discuss,
● Lean business canvas for innovative technology
● Navigation Entrepreneurial Pathway
● 4-M
● Idea validation
● Life-cycle financial model
● Customers realization; customer pains
● Minimum viable value
● Fundraising
● Scale up
● Value proposition
● Elevator speech
● Fact finding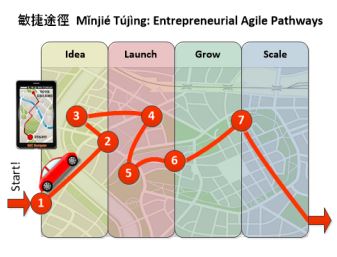 學經歷 :
Dr. Max Yen is the Founder and CEO of Global Alliance for Technology Transfer and Entrepreneurship (GAT 2E) and the Steel Dynamics Distinguished Professor at Purdue University. Max Yen has more than 30 years of successful career serving multiple professional sectors. Dr. Yen has served as a consultant to industry and government agencies in US, China and Taiwan on higher education, economic development, and global partnership & business. Max has helped develop the Institute of Engineering Education Taiwan (IEET), an NGO for engineering programs accreditation. Dr. Yen established two SIUC Centers for academic collaboration and student recruitment with universities in China. The SIUC centers has brought to the Southern Illinois University Carbondale $15 million new tuition revenue. Dr. Yen has had three research and development projects in the development of "Smart Highway Infrastructure" through the direct appropriation of the US Congress and State of Illinois. In 1999, Max served as a member of US delegation, formed by late Senator Paul Simon, that initiated the economic development relationship between China and Taiwan; currently known as Economic Cooperation Framework Agreement (ECFA), an economic development partnership that allows a stable GDP growth in Taiwan.
Dr. Yen is an active contributor to community, professional organizations and government. He has served on the scientific committee of the Council of Great Lakes States Governors and the Federal Highway Administration to foster the industrialization of Composite Materials Technology. Max's service in the Board of Directors at Illinois Coalition and Argonne National Laboratory has resulted in the distribution of $100 million for establishing the Center for Advanced Photon Sources and $40 million for creating DOE Nano-scaled Materials Research Center through general appropriation of the State of Illinois. In addition, Southern Illinois University Carbondale received an annual state funding at $250,000 for materials research.
Dr. Yen has a long-time friendship with top leaders in academia and in global industry that gives him the privilege to build a global government-industry-university network. Max has facilitated the partnership between the CEO of Deere & Co. and the President of SIUC that has resulted the development of John Deere Research Laboratory and scholarship for minority engineering program. In 2008, Dr. Yen facilitated the partnership between Advanced Technology Services (ATS), Inc. and high tech economic development authorities as well as universities in China. Dr. Yen helped develop composite materials technology in Olin Ordinance Division, which has led to successful bidding of a strategic defense contract and acquisition of a new manufacturing plant.
Dr. Yen has served many roles in academia including distinguished professor (Purdue University), faculty Senate President (Southern Illinois University Carbondale, SIUC), research center director (SIUC), and dean (Indiana University-Purdue University, IPFW) which give him a hand-on experience on university governance, academic leadership and organization, budget and finance management, programs development and delivery, enrollment and retention strategy, capital and scholarship fundraising, community relation development, assessment and accreditation, human resources management, teaching and research, academic standard and excellence. Through his academic leadership career, Dr. Yen has direct responsibility for more than $70 million of university budget. In addition, Dr. Yen has received more than $10 million in grants and contracts from industry and government for research and development. The academic leadership roles allow Max to examine and advocate the distribution of university budget and strategic planning. Dr. Yen has successfully led the SIUC's Materials Technology Center and IPFW's College of Engineering, Technology and Computer Science to develop nationally recognized programs, e.g. University-Industry Cooperative Research Center in Advanced Friction Studies (NSF) and Embedded Systems (NSF), Systems Engineering, Wireless Communication, and Information Analytics & Visualization. In his tenure as the MTC Director, Max has helped recruit and mentor many young star faculty that has led to 12 NSF Career Awards. Dr. Yen has led both SIUC and IPFW to increase international sister institutions for collaboration and students/faculty exchange. In 1999 served as the first foreign-born Faculty Senate President representing 1,300 faculty members, Dr. Yen led the SIUC community weathered through its biggest transition time in history and regained campus stability.
Max was one of the founding advisory member to the Southern Illinois Research Park at Carbondale, Illinois where he helped facilitate the development of five start-up companies in materials and manufacturing. Currently, Dr. Yen serves in the Board of Directors of Northeast Indiana Innovation Center that oversees more than 40 start-up companies with more than $50 million payroll and serves in Arts United Fort Wayne chartered to build arts community in northeast Indiana. Dr. Yen also serves as a member of Education and Advanced Manufacturing Councils at OrthoWorx who represents a $17-billions industrial cluster of global orthopedic devices manufacturers.
In 2015, Dr. Yen established a consulting company namely Global Alliance for Technology Transfer and Entrepreneurship (GAT 2E) which is charted to provide "Entrepreneurship Training" and to facilitate the development of "Start Up" companies. Partnered with Northeast Indiana Innovation Center (NIIC), Indiana University's Johnson Center for Entrepreneurship & Innovation (JCEL), and University of International Business and Economics (UIBE), GAT 2E has launched the first-of-its-kind "Entrepreneurial Pathways" training course in Beijing, China.
Max Yen has a Bachelor of Science degree in Hydraulic Engineering (Chung Yuan Christian University, Taiwan), a Master of Science degree in Engineering Mechanics (University of Missouri-Rolla) and a PhD in Engineering Science and Mechanics (Virginia Tech). Dr. Yen is a Fellow of the Society for Experimental Mechanics. Dr. Yen has served as Editor-in-Chef and Editor in several prestigious international scientific journals. Max enjoys giving speeches in economic development, global partnership and technology innovations. Max Yen is one of the leading pioneers in defining: Materials by Design, Life-Cycle Engineering, Cyber-Reality Systems, STEM Pathway to Career Success, Leadership Workshop for International Students, and "敏捷途 徑 Mǐnjié Tújìng" (Entrepreneurial Agile Pathways).
CAREER GOALS
● Prepare the next generation workforce and leaders through higher education.
● Leverage regional-national-international partnerships toward substantiating higher education learning, STEM/STEAM initiatives,
entrepreneurship/leadership, innovative research, economic development, and culture enrichment.
● Transform organization toward student-success, academic distinction, sustainability, efficiency, and growth.
MANAGEMENT AND LEADERSHIP SKILLS
● University governance
● Implement core mission of higher education institutions
● SWOT and capacity analysis
● Strategic planning and organizational transformation
● Enrollment management and building student-centered learning environment
● Team building and consensus building
● Share governance and effective communication
● Assessment and accreditation of higher education institution
● Budget allocation and re-allocation; Resource Center Management (RCM)
● Strategic hiring; enhance presence of diversity
● Leverage external resources and conduct fundraising
● Develop legislative appropriation priority
● Building partnership and entrepreneurship
● Global affairs